Keeping Up Appearances – Darryl McDade
Do you change how you behave depending on where you are, or which site you're on? Are you more gay on Twitter and less gay on Facebook? Our Comms guy, Darryl McDade, shares his experiences about how we sometimes behave from one audience to another. From name calling in high-school to self-censorship on modern-day social media, Darryl presents his take on how we tend to keep up appearances.

Keeping Up Appearances
Like probably many of you reading this, I wasn't out in junior high or high school. You know, kids will be kids, so words and phrases like "fag", "homo" and "that's so gay", were thrown around as off-the-cuff insults. Much like today, those words didn't always have to do with one's sexual orientation. Be that as it may, the real meaning of those words described me, and it always gave me an uneasy feeling that I, and people like me, were unwittingly being socially stigmatized. It's important to note that this was in the late 70s early 80s, when for all intents and purposes, the closet was much bigger than it is now.

So what does this have to do with 'keeping up appearances', you ask? Well, I was inspired by an article I read online, where the author explained that he was 2 different people on social media; and to paraphrase, totally out on Tumblr and Twitter, and for reasons I could totally relate to, somewhat closeted on Facebook.
---
Related: Love in its many forms
---
How 'out' is Out?
I personally feel it's up to each individual to present themselves in a way they feel most comfortable at any given moment and I didn't come out to family and friends until I was in my early 30s. At this stage in my life, I'd say I'm about 99.99% out. But that article opened up a Pandora's box of (self-reflecting) questions, like: How 'out' is OUT? At what point does showing a lesser amount of my "authentic me" become a fake or a misrepresentation of me? Am I perpetuating any stigmas by not being 100% open?

Managing Your Online Persona(s)
Facebook is especially great for keeping up with long distance friends and relatives. As for myself, I currently live 8,973 km (5575,5 miles) away from where I grew up, so it's nice to be able to keep up with old-school friends and relatives. It certainly gives me a feeling of inclusion and involvement with the people who I've known for a good portion of my life. But like the author of the article, I sometimes tailor my "outness" to specific audiences. I've tried to squeeze the most out of the privacy settings Facebook provides, and I've created several "audience" lists: Close Friends, Relatives, Gay Friends, Gay Friendly, School Friends, Acquaintances, etc. And although I'm not 100% consistent with it, I do make a conscious effort.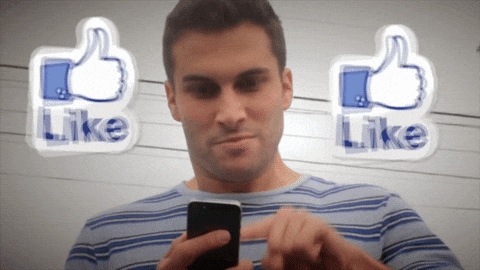 The Hesitation
Arguably, I do hesitate before putting 'Likes' on posts and events with certain subject matter. Mainly, the ones having to do with HIV, Hep-A-B-C, PrEP, TasP, U=U, etc. Although I usually don't let it stop me, I do pause to think twice, almost always. Most of my hesitation stems from not wanting to worry relatives or freak out friends, because of their limited knowledge of the subject matter, and once again, living so far away, those are conversations that I'd just rather have face-to-face.
For what it's worth, I typically only use Tumblr for porn; for Twitter, I have my 'professional' twitter profile and my uh… 'naughty" twitter profile. 😎
Keeping Up Appearances
So, although I wouldn't go so far to say that I'm 2 different people, I too have to admit that on Facebook I sometimes keep up appearances so as not to unnecessarily burst any (delicate) bubbles.
More About the Author
Darryl McDade is the Communications Officer at ROMEO. He's usually found working hard behind the scenes, putting together messages to our Romeos, brainstorming communications ideas, fine-tuning content for our site and checking the blog for accuracy and readability. So when you read something on ROMEO, it's probably gone through Darryl's hands to add his expertise and finishing touches to the final draft. He took some time out from his usual agenda to share his opinion on the different ways we present ourselves online.

Give Us Your Feedback
Well, we're curious to hear your thoughts. How do you feel about having different online personalities? How do you deal with your sexual and/or gender identity online? Do you customize your audience when it comes to gay, bi or trans subject matter? HIV, PrEP, TasP? Let us know.
You can leave your comments on our Facebook post to share them with us and the rest of the community.
---

Make Your Voice Heard
If you would like to write a piece on gay culture, send your proposal to social@planetromeo.com
---
Need more ROMEO Stories?
Enjoyed this story? Then you'll love this one about Argentina's gayest subway station.
Be sure to check out our Travel with Pride piece too.
---
End Note
We're always looking for new opinion pieces; it's a chance for you to have your voice heard, and to read other points of view. We're happy to present some open editorials here to stimulate thought or initiate a conversation, but just because we share something, doesn't always mean we agree with it; more that we think it's worth thinking about. Topics like gay culture, food, fashion, sport, music, human rights, dating, sex, and anything else you get up to, that's what we're looking for.
Save
Save
Save