The 12 Gays of Christmas: Part 2
ROMEO is taking a cheeky, but sincere look at some of the movers and the shakers making life easier for gays everywhere. This is part two in a three-part series focusing on awesome gays across time. It's all in the spirit of Christmas.
The four Gays of Christmas present
Laverne Cox
One of the most famous Trans Women on Earth, Laverne Cox shot to stardom in her role as Sophia in Orange is the New Black. Outside of the groundbreaking prison drama, Laverne is a trendsetting pioneer of the Trans community. #legend
As an activist, Cox works to raise understanding, acceptance, and tolerance of Trans people. The ripples of her work make life easier for all members of the gay community. She is a total boss and has all the essential ingredients to be a hero. She's high profile, uses her powers for good and sets the bar very high for future generations to come. She's also a total babe – her brows are always on fleek, and she slays on the dance floor. #slay
Fun fact – her twin brother plays her pre-op character in OITNB. If you need a shot of Laverne love, this Christmas check her out as the Sweet Transvestite on The Rocky Horror Show. The remake is a bit cheap, but Cox is sensational. Laverne, you are a super Gay hero.
Russell Tovey
Russell Tovey ruffled feathers in 2015 when he disclosed his dad didn't allow him to grow up effeminate. This started alarm bells ringing surrounding his internal homophobia. Since then Tovey has entered a discussion on his role and responsibility as a hugely famous gay man. He is wiser now and has learned to be more respectful. #growth
His role in Looking made Tovey a star in the US, but it's his latest role as a closeted soccer star that makes him this year's gay of Christmas present. In the film, The Pass, he is gorgeous, believable and tortured. The movie explores the tricky road a professional athlete may feel forced to follow if he happens to be gay. It's a tough watch, but a must see movie and Russell is a fit lump of ham on screen. Tight, salty and mouth wateringly sexy. Ham or him? Same, same. #babe
RuPaul
A man who took subversive queer art from the underground scene and made it relevant – RuPaul is a genius and a magician. His self-image transformations are the stuff of living legend, but it's his love for his 'Girls' that makes him a total hero. He sees potential in tortured and angry gay men, takes them by the hand and leads them to greatness. RuPaul shapes phenomenal drag queens into accomplished artists and all in front of our hungry eyes. #fiercebitch
RuPaul brought us Willam Belli, Alaska Thunderfuck5000, Bianca Del Rio, and many more shade throwing, lash wearing, inspirational drag artists. Even if drag is not for you, the growth of RuPaul's brand puts queer identity center stage, and that's an impressive achievement. Some of his 'Girls' have released provocative reinterpretations of Christmas songs and RuPaul himself had a festive album back in 1997, 'Ho Ho Ho.'
The man, the woman, the awe-inspiring RuPaul. We salute you keep doing what you're doing – you perfect Mother of the Gays.
Graham Norton
Graham interviews the most famous people in the world and behaves as if he is having tea with his grandmother, or a boozy lunch. #chill
Everything he does is spiced with a hint of naughty hi-jinx. His private life is indeed very private, but we know he has two dogs, loves a drink and writes fiction.
His legend and legacy is that anyone can make it to the top without having to hide who they are, you just have to be your honest, genuine fabulous self. Graham is a modern day Oscar Wilde without the hard jail time. #slayingit
His festive specials on the BBC are always packed with high profile names such as Will Smith, Helen Mirren and Michael Fassbender. Graham has been living an out gay life in the company of showbiz royalty for decades – he's truly a gay hero.
Check out the time Graham introduced Lady Gaga to June Brown, (Dot Cotton). #thisiseverything
So there you have it, the four gays of Christmas present, the world's most famous trans woman, Laverne Cox, the hugely famous, Russell Tovey the inspirational Rupaul and the charming Graham Norton.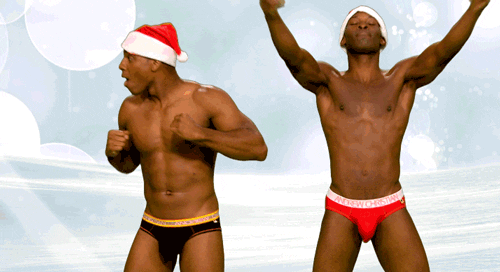 For the first rest of this trilogy follow these links:
The 12 Gays of Christmas Future
If you fancy a festive giggle right now try our fabulous quiz: